Mandi News : The flood gates of BBMB dam at Pandoh in Mandi have been opened today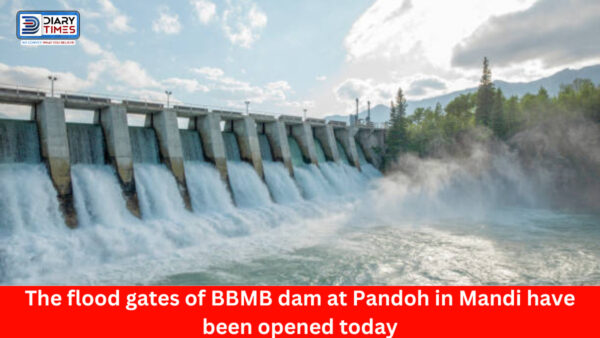 Diarytimes Media Network, Shimla Published by : Kumud Sharma, Updated July 16, 2023 by Diary Times
Due to the incessant monsoon rains in Himachal Pradesh, the water level of the river drains has also increased and all the dams are also filled to their full capacity.
In view of this, the BBMB at Pandho in Mandi, the front gate of the dam has been opened today. In view of this, Mandi district police have advised the people living in the low-lying areas of Mandi, Hamirpur and Kangra districts to stay away from the Beas river and near the dam area. An appeal has been made not to go so that any untoward incident can be prevented.
Police has said that this step has been taken in view of the dam being filled up to the maximum level and incessant rains, and at the same time the administration has appealed to all the people that if you have any work near the dam, then only you go near the dam or stay away from the dam
And at the same time, the administration has appealed to keep the children away from the dam because there have been incidents with children in the dam in the past and this time the administration is already in alert mode.
Read More – Kullu News : Closed National Highway between Kullu and Mandi restored – transport services started