Tourists enjoying adventure sports activities in Kullu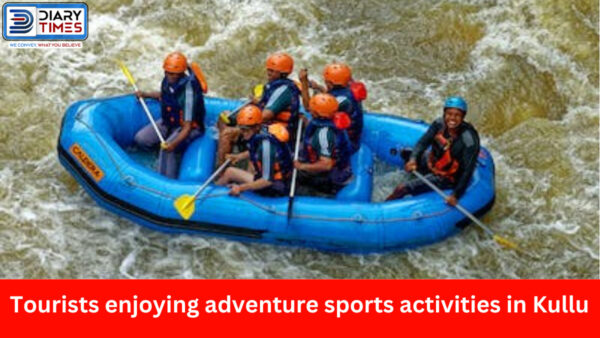 Diarytimes Media Network, Shimla Published by : Kumud Sharma, Updated July 3, 2023 by Diary Times
These days tourists from different states of the country are enjoying adventure sports activities in Kullu district. These tourists are also enjoying river rafting in the streams of Beas river.
In the last few days, due to the melting of the glacier, the water level of the Beas river has increased and in such a situation, the river rafting operator is also making sure that the rules are followed for the safety of the tourists. Tourists from different states are thrilled by doing river rafting. Are
Tourists told – We had come here to literally experience all these adventures and rafting. It was a bucket list of mine that I had to do rafting after coming here and the experience we have had is wonderful. We will not get such experience anywhere else and it was our first time. According to the first time, we didn't feel that we are scared, we didn't know anything, we were enjoying so much that if we get the option now, we would definitely like to go back.
It was a very different experience, we have never done it before, so the water here is I guess minus 5 degree, it is completely glacier water. Where we come from, there are no such rivers and all these activities are not much there. For this purpose, we have also done para gliding in the morning. This is where we brought that experience. Both things were very different in the same day. Manali is my favorite place and I liked everything here, para gliding is also good and as we have come here this river view is very good, we did camping at night It was done at the river site and that too was good.
Read More – International player Vishal Bhardwaj who won the Asian Kabaddi Championship was warmly welcomed on his arrival at Maihatpur.