Shimla News : Jairam Thakur said- The Central Government is extending full cooperation to Himachal in this hour of disaster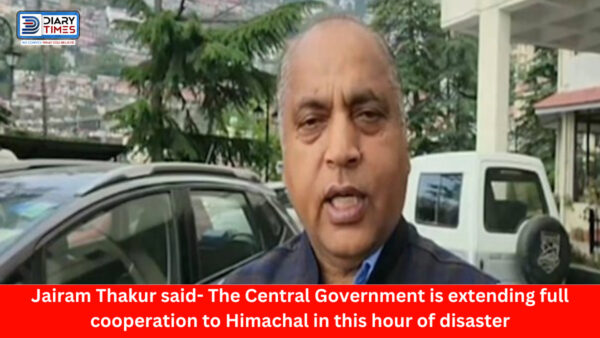 Diarytimes Media Network, Shimla Published by : Kumud Sharma, Updated July 18, 2023 by Diary Times
Leader of Opposition Jairam Thakur has said that the central government is extending full cooperation to Himachal in this hour of disaster. Despite this, it is unfortunate to say that Chief Minister Sukhwinder Singh Sukhu has not received any financial help from the Centre.
In a statement in Shimla, Jairam Thakur said that instead of making allegations, the Chief Minister should work to provide relief to the affected. He said that within a week, the central government has released two installments of Rs.364 crore to the state under disaster relief. .And the third installment is also going to be released very soon.
Apart from this, the central team is coming from today to take stock of the damage in the state and on the basis of its report, further financial assistance will be decided.Jairam Thakur said that he has visited Mandi and Kullu districts so far and the situation there is very bad. The people whose houses have been destroyed in the floods have not yet been provided with tents by the government. The condition of electricity, water and communication is also bad.
It has been more than a week since the calamity, but still people in the flood-affected areas are yearning for water drop by drop. The Leader of the Opposition said that even in the time of disaster, the Chief Minister has increased the prices of diesel in the state without any reason on the people of the state. Played a dirty joke on them by putting financial burden on them.
He said that instead of providing relief to the people of the State in this hour of calamity, the Chief Minister, who was emptying his pockets and emptying his pocket, had no right to level base allegations on the Center as well. Jairam Thakur said that instead of talking baseless, the Chief Minister should focus on rehabilitation works. Should pay attention.
He said that there are still many places in the state where no government assistance has reached. And people are looking for the way of governance and administration.Jairam Thakur said that all the affected people from BJP national leaders to booth level workers Those who are engaged in helping, yet the Chief Minister is making irresponsible comments.
Read More – Shimla News : Water supply schemes that were disrupted after heavy rains in Shimla city are yet to be fully restored