Shimla News : Heavy damage due to rain in Shimla and upper areas of the district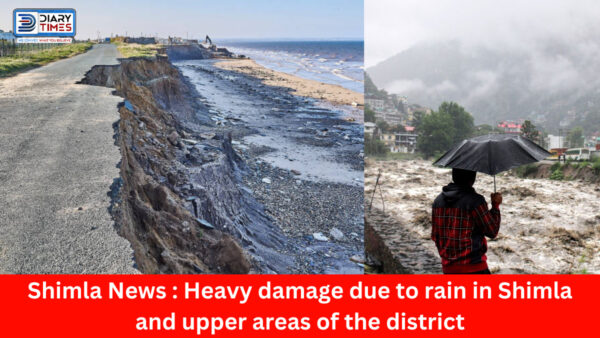 Diarytimes Media Network, Shimla Published by : Kumud Sharma, Updated July 11, 2023 by Diary Times
Shimla has suffered heavy losses due to rain in the upper areas of the district. Many roads have been blocked due to landslides in the upper areas.
This situation of Shimla is telling, due to which pictures of devastation are coming from all over Himachal Pradesh and if we talk about the capital Shimla, then in Shimla also it is raining continuously for the last three days.
Now let us tell you about the situation of Chhota Shimla, then you can see how rains are going on, although vehicles are running, if we talk about Shimla city, then all the roads inside the city are almost open. traffic on all that is moving smoothly
But if we talk about upper Shimla, then if we talk about Meva and Roru, then the traffic is closed there, landslides are happening everywhere, the NH of Shimla is also closed for traffic due to the landslide. Apart from this, landslides are happening at many places in the road of Ashok Shimla, although the work of opening the road is going on continuously.
At present, there is no respite from the weather, even tomorrow orange alert has been issued by the Meteorological Department for the entire Himachal Pradesh. However, there is no orange alert in Lahaul Spiti and Kinnaur tomorrow. Apart from this, there are heavy rains in ten districts. The possibility has been expressed by the Meteorological Department.
If we talk about the last twenty-four hours in Himachal Pradesh, then more than twenty deaths have happened due to landslides and rain accidents. A meeting of disaster management has also come, all the deputy commissioners have been given guidelines for rescue operation. to expedite
Here are the guidelines given by the Chief Minister and clearly from the Center regarding this disaster, which the Himachal Pradesh government is now demanding for help. Apart from this, all the government machinery is in place. has been deployed
The work of opening the roads is going on, around eight hundred roads are now closed in Himachal Pradesh, irrigation schemes and drinking water schemes have also been disrupted. There are many transformers of electricity, they are stalled. There are reports of damages in Himachal Pradesh due to incessant rains and at present there is no relief from the rains.
Read More – Himachal News : Jan Dhan Yojana became beneficial for poor families of remote rural areas