Shimla News : After the devastation caused by the cloudburst in Shimla's Shiv temple, the campus of the Indian Institute of Higher Studies is also in danger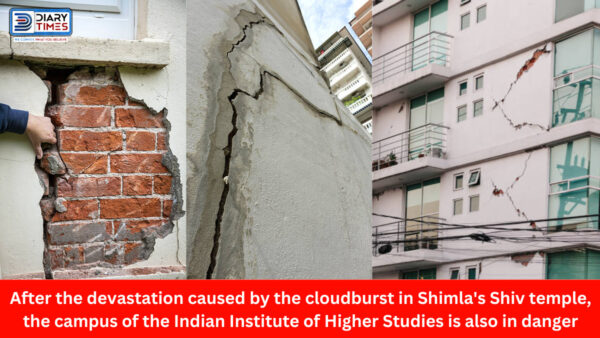 Diarytimes Media Network, Shimla Published by : Kumud Sharma, Updated August 19, 2023 by Diary Times
Shimla News : The campus of the Indian Institute of Higher Studies is also in danger after the devastation caused by the cloudburst in the Shiv temple of the summer hill area in the capital Shimla.
Due to landslides, the back side walls of this institute, which is about 150 years old, have completely collapsed and cracks have appeared at many places. Apart from this, the ground has also sunk in the front of the institute and it is on the verge of collapsing.
Shimla's SDM Bhanu Gupta inspected the premises, he said that soon a team of experts will visit here, after which it will be clear how much danger this building is in.
He said – Look, generally they have told me about two places, one is the major slide which has happened and the entire crowd has reached the body of the Shiva temple, in which a big disaster has happened to us. is covered
And secondly, they have just told here near the ground that some cracks have come, because of which the building, the ground near the building, has sunk a little and along with it some two or three trees have also tilted slightly. For which we requested the department to visit the case and give its assessment report so that we can find out the loss in it.
And now they have covered it all with a precautionary tarpaulin etc. and have stopped the movement of people. As far as the building is concerned, now the technical team of MC is visiting in a while. So after visiting they batter will be able to access it.
Meanwhile, the relief work in Shiv Mandir area of Summer Hill continued for the fifth day today. One more body has been recovered from the area today, taking the total number of bodies recovered from the debris to fifteen. People are estimated to be reported missing.
Read More – Una News : Campaign launched in Una district with the aim of making youth aware of skill development