Shimla Accident : Big collision between truck and pickup, two people died on the spot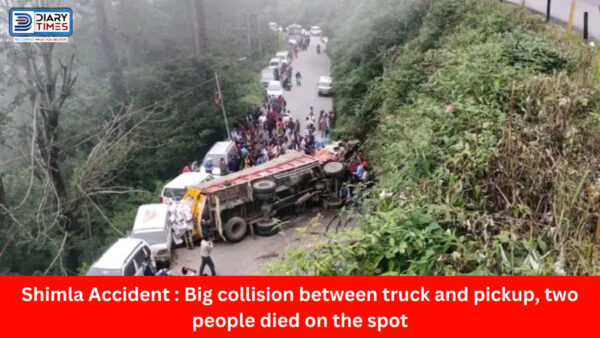 Diarytimes Media Network, Shimla Published by : Kumud Sharma, Updated August 9, 2023 by Diary Times
Shimla Accident : Collision between truck and pickup in Shimla's Dhali, accident happened near Dhali Mashobra bypass at around 8 am today, 2 people died, 2 injured, the injured were rushed to the hospital.
Fierce collision between truck and jeep in Shimla's Dhali, rescue operation continues
In Shimla, at around eight o'clock this morning, two people died on the spot and two injured people were immediately rushed to the hospital due to a big accident due to fog and mist in the high speed of truck and pickup near Mashobra bypass of Dhali. Diary Times Correspondent Kumud Sharma told that Mashobra Bypass had already become the center of the accident due to the possibility of rain and landslide, but despite the negligence of the administration, this bypass was started from the point of view of business and it was a terrible accident. The accident happened due to brake failure of the driver in fog and mist.
Chief Minister, Deputy Chief Minister and PWD Minister assured all possible help
Hon'ble Chief Minister of Himachal Pradesh Mr. Sukhwinder Singh Sukhu, Deputy Chief Minister Mukesh Agnihotri and PWD Minister Vikramaditya Singh took serious note of the bus and pickup van accident and condoled the death and assured all possible help and transportation to the injured.
Even before this many accidents have happened
Shimla's Mashobra bypass has been a victim of many accidents earlier also due to not being properly rolled out, it is inspected from time to time by the officials and ministers of Himachal Pradesh, but till now only during the monsoon in landslides and rains. Due to the accident, difficulties have increased in business activities along with the general public.
Read More – Himachal News : Meri Mati Mera Desh campaign started from today to pay tribute to the martyred heroes in the country