C-20 Sewa Summit in Bhopal: Policy making in India is done by keeping service at the center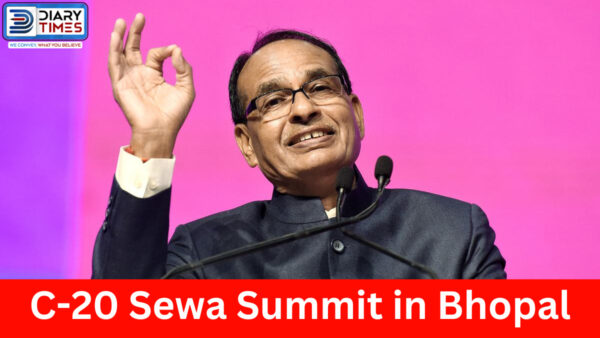 Diarytimes Media Network, Shimla Published by : Kumud Sharma, Updated July 3, 2023 by Diary Times
C-20 Sewa Summit : Madhya Pradesh has a special contribution in the service sector. It is the capital of India in social service. Service, dedication and volunteerism are in the heart of the people of Madhya Pradesh. In the world, policies are made keeping rights at the center, but in India policy is made keeping service at the center. In India, service has been linked to a sense of duty. Everyone considers it their duty to serve each other. This was stated by Dr. Vinay Sahasrabuddhe, President of the Indian Council for Cultural Relations, while addressing the two-day C-20 Civil Services Conference.
He said that even in the Russo-Ukraine war, war refugees took shelter under the Indian tricolor and the armies of both the countries respected the Indian tricolor. This conference will give us an opportunity to peep into our past and understand the culture and traditions of G-20 countries. With the aim of awakening the spirit of Vasudhaiva Kutumbakam in the world with service, philanthropy and volunteerism, the two-day C-20 Civil Services Conference of the G-20 countries began at the Kushabhau Thackeray Convention Center in Bhopal on Saturday. Micro, Small and Medium Enterprises (MSME) Minister Omprakash Sakhalecha and Dr. Sahasrabuddhe inaugurated the conference by lighting the lamp.

HE Mohamed Haji Al Khoori, Director General, Khalifa bin Zayed Al Nahyan Foundation, Padma Shri Ashok Bhagat, Secretary, Vikas Bharati, Shyam Parande, Global Co-ordinator, Sewa International India, Kiran DM, Youth for Sewa India and CEO of ISRN and National President of Sewa Summit Coordinator Santosh Gupta should be with you. The program telecasted Mata Amritanandamayi's (Amma) message focused on humanity, service religion, equality and spirituality and the film Journey of Oneness based on Adiguru Shankaracharya. The program will conclude on Sunday in the presence of Chief Minister Shivraj Singh Chouhan.
Service and dedication are synonymous with Indianness – Minister Omprakash Sakhalecha
Micro, Small and Medium Enterprises (MSME) Minister Omprakash Sakhalecha said that service and dedication are synonymous with Indian culture. In Sanatan culture, service is at the center of the joint family. It is said in the Indian tradition that Seva Paramo Dharmah. Considering service as the ultimate religion during the Corona period, Prime Minister Narendra Modi made the Covid vaccine available free of cost not only to India but also to many countries of the world. Following this spirit of service, Chief Minister Shivraj Singh Chouhan started Ladli Laxmi Yojana to Ladli Behen Behna Yojana. This conference will incorporate the spirit of service centered in the Indian tradition in the consciousness of the whole world.
Read More – G20 Summit 2023 : Those who made the G20 event successful were honored